Trust.Zone

Ekspertanmeldelse
Ærlighet og gjennomsiktighet er to av vpnMentors kjerneverdier. VPN Firmaer kan ikke betale for å endre eller slette anmeldelser. Når lesere velger å kjøpe en vpn tjeneste, så mottar vi i enkelte tilfeller afilliate kommisjon som støtter arbeidet vårt. Her er en forklaring på nøyaktig hva vi gjør og hvordan du kan støtte arbeidet vårt.
John Norris
(San Francisco basert tech blogger og vpn konvertitt)
Trust.Zone er basert i Seychellene hvor de operer i henhold til lovene i det landet. Likt med våre beste VPN-er, NordVPN and ExpressVPN (s...
Trust.Zone

Brukeranmeldelser
Det finnes ingen anmeldelser for Trust.Zone, hvis du har noen erfaringer med deres tjenester, så setter vi pris på om du vil være den første som legger inn en anmeldelse!
This program slowed down my laptop, connection was very slow so it was impossible to watch something and had only one available server. I asked for refund but they didn't come back to me. So I claim it through Paypal. After that, I was threaten to cancel it or I won't get my money back. Very rude and unprofessional service.
---
Se planer
Svar på denne anmeldelsen
Visste du at vi godkjenner alle brukeranmeldelser? Selskaper kan ikke betale for å inkludere eller ekskludere anmeldelser.
I started using Trustzone because of their no logging policy and warrant canary. They use OpenVPN, L2TP protocol, which I think is arguably the most secure, and AES 256 encryption standard. Plus, they take anonymous payments with bitcoin. I only put 4 stars because Trustzone support is off during weekend
---
Se planer
Svar på denne anmeldelsen
I usually get 80-90% of that with minimum lag
Everything really works extremely well with Trustzone, and especially the throughput is extremely good compared to other VPN services. I have a 100 mbit connection, and using trustzone I usually get 80-90% of that with minimum lag, which makes it perfect for streaming services, even in HD.
---
Se planer
Svar på denne anmeldelsen
Trust.Zone vs. NordVPN vs. ExpressVPN vs. PrivateVPN
| Funksjoner | Beskrivelse |
| --- | --- |
| Antall serverlokasjoner (land) | 32 |
| Antall servere | 107 |
| Antall IP adresser | 200 |
| Beholder VPN logg | Nei |
| Inkluderer kill switch | Ja |
| Enheter per lisens | 3 |
Sen den korte videoanmeldelsen og leksjonen nedenfor Trust.Zone
John Norris
(San Francisco basert tech blogger og vpn konvertitt)
En relativt ny VPN med gode priser og funksjoner, men mangler på enkelte områder
Definitivt en blanding, Trust.Zone har gode og dårlige kvaliteter. Det er enkelt å bruke og deres priser er definitivt rimelige nok, men hastighet er et stort problem, det er også kundestøtten deres, som er litt upraktisk. Kill switch funksjonen er veldig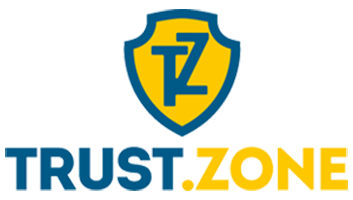 Detaljert ekspertanmeldelse